Russia has launched a "massive missile attack" on Ukraine, officials said, knocking out power and forcing people to take cover in bomb shelters across the country amid reports of fatalities and "colossal damage".
Authorities on social media reported explosions in the capital Kyiv, southern Kryvyi Rih and northeastern Kharkiv on Friday morning, as air raid sirens were sounded across the country warning of a fresh devastating barrage of Russian strikes on critical energy facilities and infrastructure.
The Black Sea region of Odesa was also targeted, including the central cities of Vinnytsia and Poltava, the northern Sumy region, and southeastern Zaporizhzhia – as emergency power shutdowns were announced across Ukraine by Kyrylo Tymoshenko, deputy head of president Volodymyr Zelenskyy's office.
Ukraine war latest: Air raid alarms across Ukraine as key cities hit
Two people were killed and at least eight injured – including three young children – in an attack on a residential building in Kryvyi Rih, the governor of Ukraine's Dnipropetrovsk region said. People were thought to be trapped under the rubble.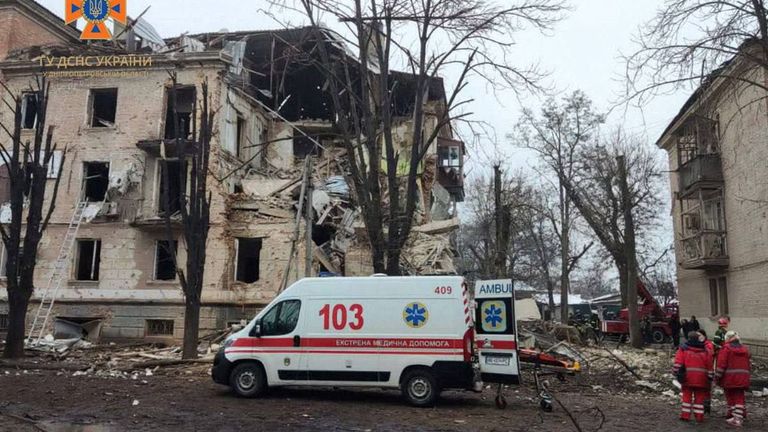 A third person died in the southern Kherson region after an apartment block was hit by Russian shelling that caused a fire, regional authorities said.
There was no immediate word of more casualties elsewhere, as air defence systems went into operation across Ukraine.
The country's railway operator said a number of lines had been impacted and left without electricity. Some trains continued to run by switching from electric to steam power.
Nine power facilities were damaged, Ukraine's energy minister German Galushchenko said on national television.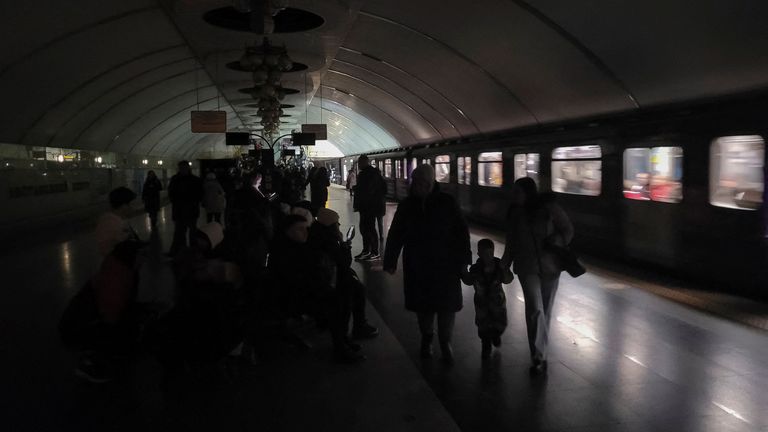 The Ukrainian army managed to intercept 60 out of 76 incoming projectiles, including 37 out of 40 missiles on Kyiv.
Ukraine's air force spokesperson Yuriy Ihnat said Russian forces tried to distract Ukrainian air defences by flying warplanes near the country.
It was "one of the biggest rocket attacks" since Russian forces invaded the country in February.
Read more:
People 'risk freezing to death' as Russia attacks Ukraine's power grid
UK to train Ukrainian judges to carry out war crimes trials for Russian soldiers
"They want to destroy us, and make us slaves. But we will not surrender. We will endure," said Lidiya Vasilieva, 53, as she headed for shelter at a Kyiv railway station.
"I want the war over and soon. But I'm ready to wait as long as needed."
Click to subscribe to the Sky News Daily wherever you get your podcasts
Around 60 Russian missiles had been spotted heading for targets across the country, according to Vitaly Kim, governor of the Mykolaiv region in southern Ukraine.
"The enemy is massively attacking," Oleksii Kuleba, head of Kyiv's regional military administration, said in a post on Telegram.
"Do not ignore air raid alerts, remain in shelters," Mr Tymoshenko wrote on the messaging app, while Kyiv Mayor Vitali Klitschko reported explosions in the northeastern Desnianskyi and western Holosiivskyi districts.
"The attack on the capital continues," he wrote. "Stay in shelters and safe places."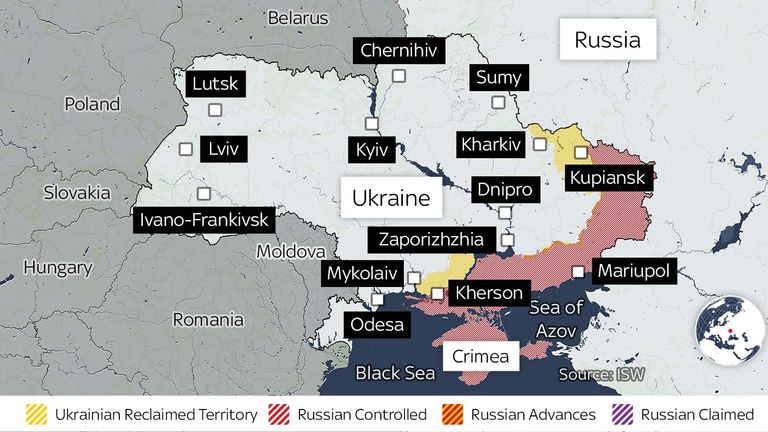 Metro services in the capital were suspended, as residents flocked inside its tunnels deep underground to seek shelter.
Kharkiv, home to more than a million people, was left entirely without electricity, as was the smaller city of Poltava in central Ukraine, the Oblenergo energy provider reported. There were power outages in Sumy too.
"There is colossal damage to infrastructure, primarily the energy system," Kharkiv Mayor Ihor Terekhov told residents in a post on Telegram.
"I ask you to be patient with what is happening now. I know that in your houses there is no light, no heating, no water supply."
Read more:
Freedom comes at a price as Russia switches from occupier to attacker of Kherson
Putin could use peace talks 'as excuse to rearm and recruit troops'
Russians target Kyiv with drones

Earlier this week, Russia launched 15 Iranian-made suicide drones – so-called because they explode upon impact – against electricity infrastructure in the port city of Odesa and the surrounding region in southern Ukraine overnight into Saturday.
Following several key battlefield losses by Russian forces in recent months, strikes targeting energy infrastructure have been part of Moscow's new strategy to try to freeze Ukrainians into submission.
Friday's attacks are the latest of several big waves of missile strikes in the winter months.
At least eight people were killed and 23 wounded by Ukrainian shelling in the Russian-controlled Luhansk region of Ukraine, Russia's state news agency TASS reported on Friday, citing an unidentified source in the emergency services.
The village of Lantrativka was attacked, a small settlement close to the border with Russia, a Russian official said in a Telegram post, describing the shelling as "barbaric".
There was no immediate comment from Kyiv.