Rishi Sunak has been accused of rehashing old ideas as he prepares to launch a fresh crackdown on anti-social behaviour.
The prime minister has vowed the government's measures, which include a ban on nitrous oxide and a plan to make offenders repair damage they cause, will "restore people's confidence" and "stamp out these crimes once and for all".
But Labour said government cuts had contributed to the problems Mr Sunak is aiming to fix.
Under plans first detailed on Saturday, 16 areas in England and Wales will get funding to trial ideas like "hotspot" enforcement patrols and an "immediate justice" scheme to speed up punishments.
The former will see more police officers and wardens cover areas like parks, high streets and public transport.
Those found to be committing anti-social behaviour will be made to repair any damage, ideally within 48 hours, while working under supervision and wearing high-vis vests.
If successful, the hotspot and justice plans will be rolled out across England and Wales from 2024.
And a new digital reporting tool will be developed over the next 12 months, which will let people report anti-social behaviour incidents and get updates on what action local councils or the police are taking.
Victims will also get a say in how offenders are punished, such as by picking up litter or washing police cars, but the government has not said how this would work.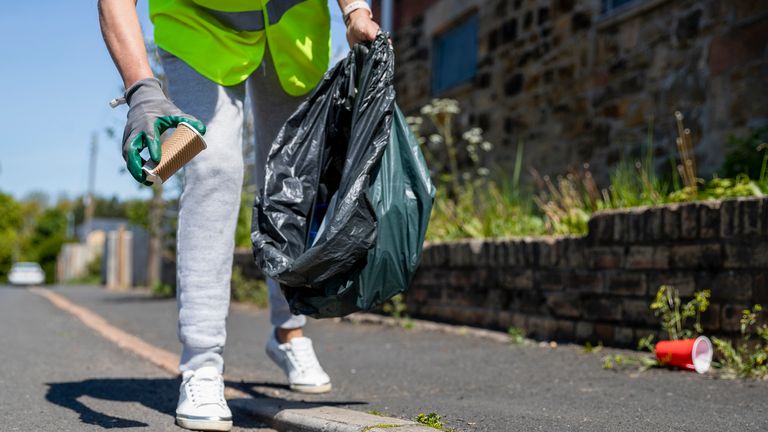 'We've heard it all before'
Labour said tackling anti-social behaviour was a priority but said the government was rehashing old ideas.
Shadow culture secretary Lucy Powell told Sky's Sophie Ridge on Sunday programme: "We've heard it all before from this government, and I think we have to judge them by their record.
"Community sentencing over the last 13 years is down not just by a third, but by two thirds."
Former victims' commissioner Baroness Helen Newlove, a Tory peer, also said "there is nothing new" in the government's crackdown plans.
"It doesn't really rock my boat, and there is nothing new there that jumps out to actually be effective… to help communities feel safe where they live," she told BBC Radio 4's The World this Weekend programme.
It's difficult to see how the ban on this popular drug will be policed
We've been investigating nitrous oxide use for the last few months. In that time we've spoken to users, sellers, medics, police, politicians.
Everyone has different ideas about the risks associated with this gas. Users we spoke to last night outside a club said it is harmless, a bit of fun. It gives them a 30-second high, so what's the big deal? Medics paint a different picture. They see the ugly side of the party drug: young people who have lost feeling in fingers and toes, some with collapsed or burst lungs and one person who ended up in a wheelchair.
The government asked for advice and the body responsible for reviewing it acknowledged those risks but said they weren't high enough (pun not intended) to warrant a ban.
It recommended that nitrous oxide remain a psychoactive substance – legal to inhale, illegal to supply for recreational use. But the government says the anti-social behaviour associated with it is not a "minor crime". The levelling up secretary told Sky News today that nitrous oxide will be banned under the Misuse of Drugs Act 1971.
Michael Gove didn't specify how it will be classed but it's important to find this out because that explains how serious an offence it will be to take the drug.
Last night we lost count of how many people were streaming out of the club inhaling balloons. It's difficult to see how this will be policed.
It's important to remember there are plenty of legitimate uses for nitrous oxide, which can be used as an anaesthetic in medical and dental contexts and as a gas for whipped cream in cooking.
Read more:
Ex-Tory ministers targeted in sting operation
Adam Boulton: Politicians must get their houses in order
Nitrous oxide to be banned
It comes after Michael Gove announced a ban on nitrous oxide would be part of the crackdown.
The levelling up secretary told Sophy Ridge that laughing gas "can have a psychological and neurological effect" on people and resulted in the littering of silver canisters in public spaces.
It is being banned despite a review commissioned by the Home Office advising against it, saying potential punishments would be disproportionate to the amount of harm caused.
David Badcock, chief executive of the Drug Science scientific committee, said: "It won't stop young people using it, banning any substance just drives it into criminal hands."
The party drug is now the third most used among 16 to 24-year-olds in England. A Sky News investigation revealed there had been a spike in hospital admissions caused by people using it.
Click to subscribe to the Sophy Ridge on Sunday podcast
Other measures in the government's plans include:
• Increasing fines for graffiti, littering and fly tipping to £500 and £1,000
• More powers for landlords and housing associations to evict unruly tenants
• Allowing councils to quickly take control and sell empty high street buildings
• Making it an offence for criminal gangs to organise begging networks for money
• Giving police new powers to tackle illegal drug use, including testing upon arrest
An anti-social behaviour taskforce, led by Home Secretary Suella Braverman and Mr Gove, will be set up to chart progress and co-ordinate responses.
Meanwhile, 43 more youth centres will get £90m between them to upgrade facilities and offer more activities.
It comes after warnings that the closure of such clubs was "pushing children to violence".