One of the first Britons to escape Gaza has told Sky News of the "chaos" he faced while trying to escape – and his "heavy heart" for those left behind.
Nearly 100 Britons are listed among foreigners and Palestinians who will be allowed to leave Gaza and cross into Egypt through the Rafah border today.
Liverpool surgeon Dr Abdel Hammad is among the first to make it over the crossing, telling Sky News it was a "big relief" to make it out, but he is afraid for the people who remain.
Israel on 'very, very high alert' on Lebanon border – live updates
"It was very chaotic," he said. "It took about a whole day to get to Rafah and we arrived in Cairo at 4am in the morning."
He said he found out his name was on the list of people approved to leave Gaza by the Foreign Office and tried to leave on Wednesday afternoon.
But the crossing closed before he could make it through, only managing to flee Gaza on Thursday.
"It has been four weeks of a terrible situation. I am very pleased to be out," he said.
"I have a heavy heart for my colleagues in Gaza and my patients in this situation."
He described the destruction in the besieged Palestinian enclave as "heartbreaking" and warned supplies of medication are running low.
Flares, flashes and explosions as projectiles are fired into Gaza

"I'm afraid many of them [patients] will die," he said. "Unfortunately, this is not a natural disaster, this is a man-made disaster and something has to be done to stop all the destruction."
The Foreign Office said more UK nationals made it to Egypt on Thursday – though it's not clear how many – after two UK aid workers managed to flee Gaza on Wednesday.
The Palestinian Border Authority published a list that includes 92 British nationals among 127 names.
According to that list, the in-laws of Scottish First Minister Humza Yousaf – Elizabeth and Maged El-Nakla, from Dundee – have been granted permission to leave Gaza, having been trapped since the conflict began.
The Palestinian Border Authority said those named on the list must be "present at 7am in the outdoor halls of the crossing to facilitate their travel".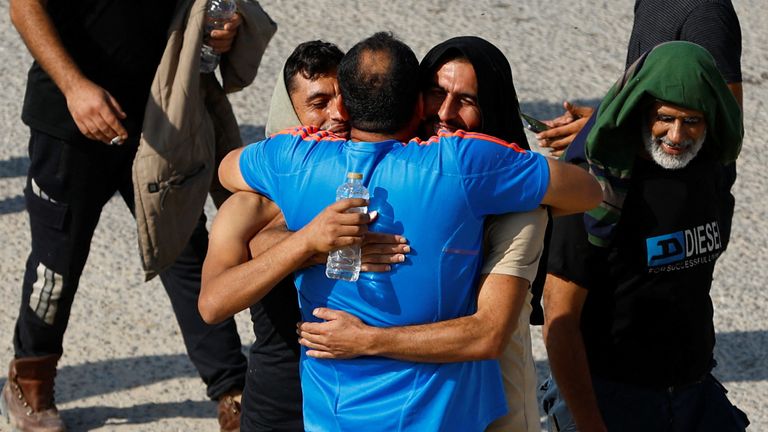 Read more on this story:
What social media and satellite images tell us
A war between Israel and Hezbollah would be far more dangerous
Egypt has said it will not accept an influx of Palestinian refugees in case Israel stops them returning after the war, but in recent days Palestinians with foreign passports have been allowed in.
Some 342 Palestinians with foreign papers and 42 others crossed on Thursday, according to the Palestinian Border Authority.
The crossings come as Israel continues attacks in its stated aim to destroy Hamas after last month's surprise attack on 7 October.
Troops completely encircled Gaza City on Thursday, according to Israel's military, as it steps up ground operations after weeks of aerial attacks.